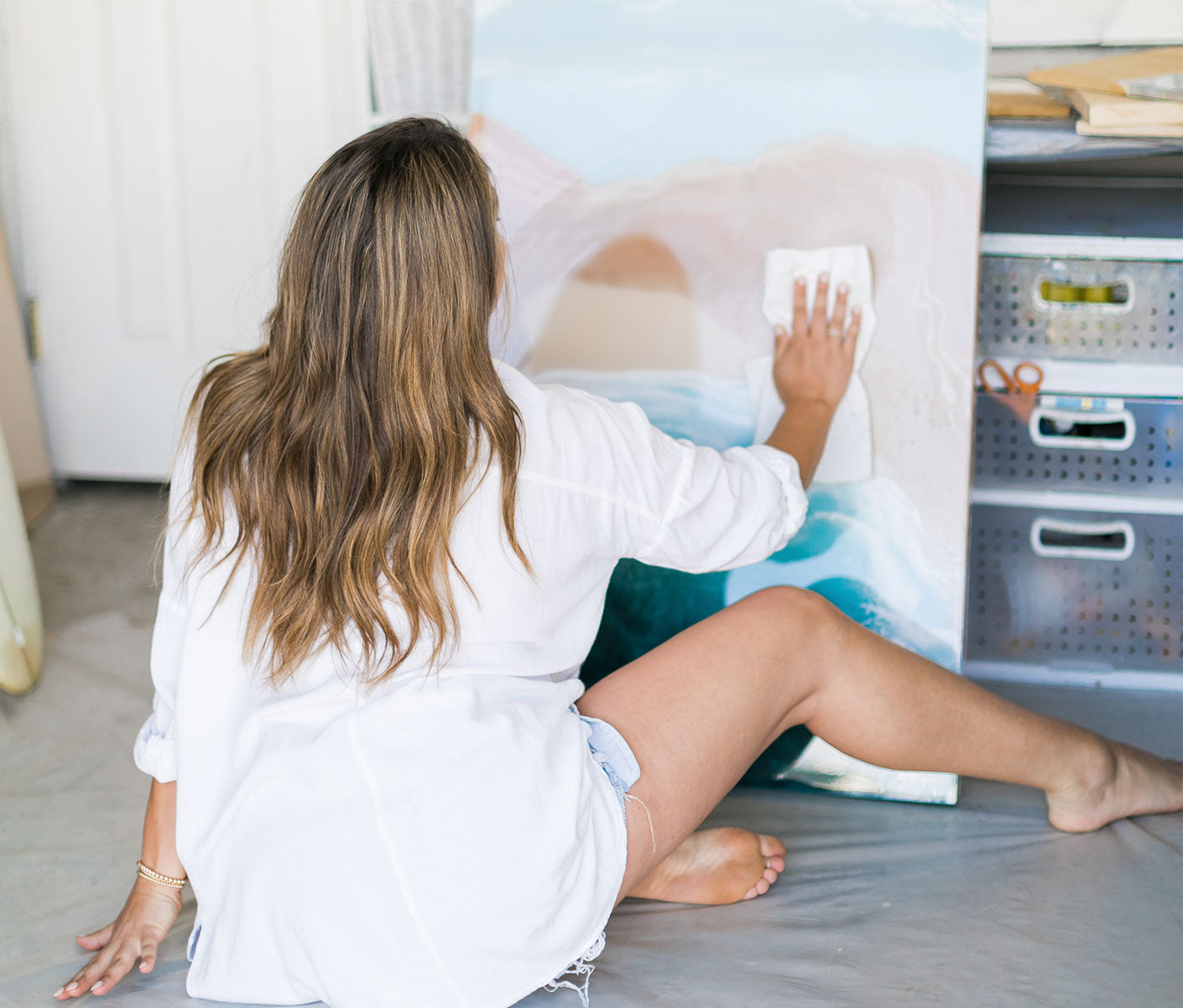 COMMISSIONS
Each art piece is handmade with several applications of epoxy resin, creating multidimensional"worlds" beneath each glossy layer. With the environment being the artist's greatest inspiration,each work strives to bring the beauty of our surroundings into every style living space. No artpiece is the same, as it is almost impossible to replicate techniques throughout collections,making this art truly one-of-a-kind.
submit a request ↓
THE COMMISSION PROCESS
SIZE
It is best to begin with planning where you intend to hang your custom commission. At this time, I am currently accepting commissions 24" x 30" and larger. Unsure of the perfect size for your space? I am happy to help you decide!
INSPIRATION
I appreciate any kind of inspiration you would like me to incorporate into your custom project that you can provide- particular paintings/style of mine that you favor, photographs of the space you intend on placing the custom piece, color pallets, landscapes or locations that inspire you, Pinterest boards etc.. This information will help me get a better idea of the overall style and mood you desire for your custom artwork. The more insight the better!
SCHEMATIC PAINTING
Using the information I gathered, I like to paint a few options I have in mind to give you an idea of what the layout of the artwork might look like. Once I have your approval, It's time for me to get to work! I typically complete each commission within 10-12 weeks, depending on size, detail, and time of year (holidays tend to get a little busy!).
PRICING
My prices for commissioned pieces start at about $800, and run about 15% more than ready-to-ship artworks. This is to account for the time spent putting together a cohesive piece that meets all your wishes. I ask for a 50% deposit to begin, with the remaining balance (plus shipping) once your painting is complete.
For more information on Commission Terms and Policies, click HERE.
Testimonials
"Kayla was so quick to respond to my initial inquiry for one of her commissions. I have purchased a couple grazing boards in the past and have had my eye on a commission for awhile! Once we began the process she was very attentive and we discussed all of the details that would go into the piece. She kept me updated during her process and I am so incredibly happy with the end result. This is a piece I plan on hanging in my home forever and I am so thankful to her for making the process so personal and special!"
TAYLOR
Laguna Beach, CA
"Kayla was so amazing to work with throughout the entire process of her creating a beautiful custom art piece for my new home! She truly listened to what I was looking for, consulted me on color choices, kept me updated on the status of my piece, and overall made me feel very confident that I was in good hands. My piece turned out more stunning than I ever imagined! I will 100% continue to invest in her custom work for all of my future art purchases."
RILEY
Dana Point, CA